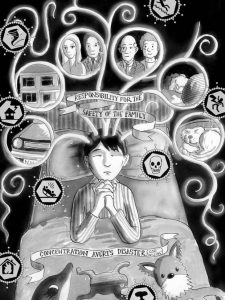 OCD is a disorder in the signaling area of the brain. Contrary to popular opinion, children and teenagers can have OCD, in fact, it is increasing with children as young as 3 to 4 yrs. old displaying repetitive, compulsive and obsessive behaviors. Being a neat freak is not OCD, color coding your socks, is not a little OCD. OCD can severely impact a child/teenager's daily life and lead to isolation, increased anxiety, depression, suicidal thoughts, panic disorder. Children with OCD are also at increased risk of being bullied.
Signs and symptoms of OCD:
Recurrent obsessions (thoughts, feelings, fears) that makes the child/teenager stressed and anxious e.g. germs on objects, parent will die, etc.
Repeated compulsions or actions or behaviors that the child/teenager does to try and reduce the anxiety and discomfort from the obsession e.g. constantly washing hands, checking door handle repeatedly, tapping or touching a certain number of times
Child/teenager may also be angry, irritable, sad, embarrassed
Withdraw from family, friends, school and social activities
Obsessive Compulsive Disorder is a serious mental illness, however, with the right treatment and support, it can get better. Treatment includes intensive counselling, usually cognitive behavioral therapy (CBT) and parent coaching, and medication (SSRIs selective serotonin reuptake inhibitors).