The suicide rate increased 33 percent from 1999 through 2017, from 10.5 to 14 suicides per 100,000 people (NCHS Data Brief No. 330, November 2018). Rates have increased more sharply since 2006. Suicide ranks as the fourth leading cause of death for people ages 35 to 54, and the second for 10- to 34-year-olds. It remains the 10th leading cause of death overall.
But it's a different story in other parts of the world. Over roughly the same period, other countries have seen rates fall, including Japan, China, Russia and most of Western Europe. What is going wrong on our shores—and what lessons can we import from elsewhere?
Suicide trends: Looking for clues
Pinpointing the reasons that suicide rates rise or fall is challenging in part because the causes of suicide are complex. Risk factors include health factors (such as depression, substance use problems, serious mental illness and serious physical health conditions including pain), environmental factors (such as access to lethal means and stressful life events including divorce, unemployment, relationship problems or financial crisis) and historical factors (including previous suicide attempts, a family history of suicide and a history of childhood abuse or trauma).
"At the individual level, there is never a single cause of suicide. There are always multiple risk factors," says Christine Moutier, MD, chief medical officer of the American Foundation for Suicide Prevention. "That confluence of multiple risk factors makes it a trickier business to explain a population-level rise."
And while the climbing rates are cause for concern, experts point out that they don't tell the whole story. In fact, the U.S. suicide rate is similar today to the rate of 30 years ago. Deaths by suicide fell markedly in the 1980s and 1990s before rising again at the turn of the century. What's more, while some countries, such as Russia, have seen dramatic declines in suicide rates since the 1990s, their rates are still well above those in the United States.
In other words, there is no obvious culprit for an increase in suicides—nor is there a single, easy solution we can import from other nations to turn the trend around. Yet there are clues.
Socioeconomic changes might be part of the puzzle. Globally, suicide rates have often fallen when living conditions have improved. And the reverse is also true. Princeton University economists Anne Case, PhD, and Angus Deaton, PhD, have shown that deaths from suicide, drugs and alcohol have risen steeply among white, middle-aged Americans since 2000 (PNAS, Vol. 112, No. 49, 2015). They argue these "deaths of despair" are linked to a deterioration of economic and social well-being among the white working class (Mortality and Morbidity in the 21st Century, Brookings Papers on Economic Activity, Spring 2017).
The CDC figures appear in line with that theory. From 2000 to 2016, the suicide rate for white Americans climbed from 11.29 to 15.7. For black Americans, it rose from 5.52 to 6.03 over the same period. What's more, suicides have increased most sharply in rural communities, where loss of farming and manufacturing jobs has led to economic declines over the past quarter century.
Meanwhile, people who are struggling often fail to receive interventions that could save their lives. "There is a lack of accessible, affordable, effective mental health care. And the health-care system hasn't been designed with suicide risk in mind," Moutier says.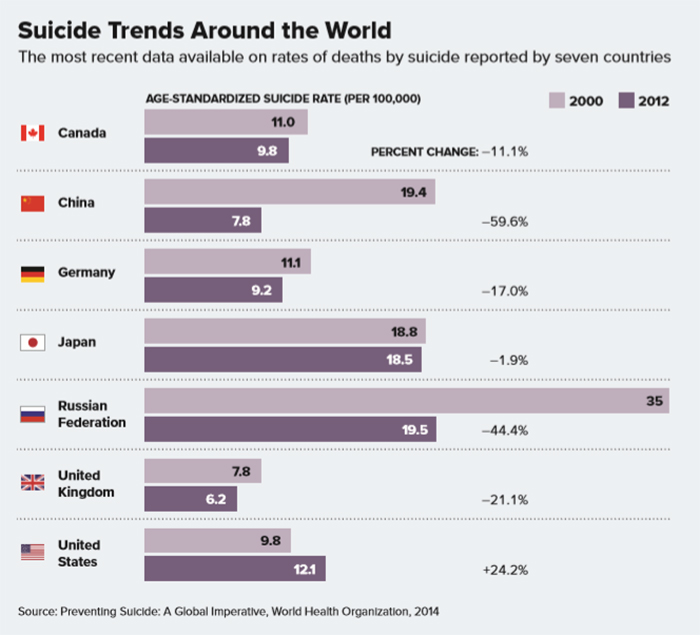 Limiting legal means
While data from other countries can't explain the rising rate of American suicides, they may hold clues about how to prevent them. One takeaway from the data both at home and abroad: Limiting access to means of death can make a real difference.
When countries have made it harder to access a means of death, their suicide rates have declined. In England, people once could end their lives with carbon monoxide from toxic coal gas. When the country switched to less-toxic gas for heating and cooking, deaths from suicide dropped by 40 percent. In Asia, many countries saw suicide rates drop after making it more difficult to access toxic pesticides that are used in farming. Bridge barriers that prevent people from jumping have similar effects.
In the United States, more than half of all suicide deaths are the result of firearms. And there's evidence that when access to guns goes down, so do suicide deaths. During the 1990s, household gun ownership fell significantly. During those years, deaths from suicide by firearm also decreased, while suicide by other means stayed about the same. The result: a notable drop in the overall suicide rate, from more than 12 per 100,000 in 1990 to just under 10.5 in 1999.
A strategy for prevention
Another common element among many countries that have seen suicide rates fall: They have made suicide prevention a mission, through efforts such as improving access to mental health treatment, investing in community interventions, coordinating suicide prevention across health-care, social, education and employment services, and implementing workplace suicide prevention programs that train supervisors to identify and help those at risk. "Some of those countries, including Japan, have gotten impressively serious about investing in a national plan," Moutier says.
Japan has long had some of the highest suicide rates among industrialized countries. Rates there rose markedly in the late 1990s, a trend often attributed to the Asian financial crisis of 1997. Around the turn of the 21st century, a cultural shift occurred. Japanese citizens began to view suicide as a public health problem rather than as a personal problem to deal with in private. In 2006, the country passed legislation to fund suicide awareness and prevention campaigns and by 2012, the number of suicide deaths had fallen below 30,000 for the first time in more than a decade.
One element of Japan's plan that appears to have been helpful was a mandate requiring that detailed, municipal-level suicide statistics be released every month. That step allowed suicide prevention resources to be matched to communities with the greatest needs.
In the United States, timely suicide data that include details about risk factors and mechanisms of death have been hard to come by. The CDC's National Violent Death Reporting System, which collects such details, was only created in 2002, and it wasn't until 2018 that it was expanded to collect data on suicides and other violent deaths from all 50 states. "We haven't had a really good picture of the characteristics and life experience of suicide decedents across the U.S.," says Jane L. Pearson, PhD, chair of the Suicide Research Consortium at the National Institute of Mental Health.
The United States has also been slow to develop a national strategy. The country's first national plan to address suicide prevention was published in 2001, and it wasn't until 2010 that the National Action Alliance for Suicide Prevention was launched as a public-private partnership to advance and update the National Strategy for Suicide Prevention. That strategy, released by the U.S. Surgeon General and the Action Alliance in 2012, outlines goals and objectives for reducing deaths by suicide.
It's an encouraging step, Pearson says, but there's been a lag in moving from research to action to meet the National Strategy objectives. Accessible, affordable mental health services are still out of reach for many people with suicidal thoughts and behaviors. "We can't point to any single factor causing an individual to consider suicide, but we can point to health-care practices that can make a difference in suicide prevention. The three key areas are risk identification, intervention and follow-up," Pearson says. "We're making progress in understanding risk factors and how to intervene, but the rate keeps climbing because we're not fully implementing what we know."
One promising approach comes from a study by psychologist Edwin Boudreaux, PhD, at the University of Massachusetts Medical School, and colleagues. The multi-site trial explored universal suicide screening in hospital emergency departments. Study participants who were identified as being at risk received an intervention that involved an assessment, brief intervention, discharge resources and follow-up phone calls focused on reducing suicide risk. Patients who received the screening and intervention had 30 percent fewer total suicide attempts in the next year compared with patients who received treatment as usual (JAMA Psychiatry, Vol. 74, No. 6, 2017).
Such interventions are promising, but there's a lot of work to be done. Meanwhile, Pearson and other experts argue that psychologists should be doing more to help those at risk of dying by suicide. Many psychology training programs barely touch on the topic, Pearson says. "You'd think mental health professionals should be experts in helping suicidal people, but we aren't."
But it's never too late to get up to speed. "There's so much anxiety around treating suicidal people, but you shouldn't beat yourself up. If you trained more than five or 10 years ago, there wasn't a lot of science to inform what we should be doing clinically," Moutier says. "Now there are new standards to be aware of." She recommends mental health professionals, physicians and other clinicians familiarize themselves with the standard care recommendations published by the National Action Alliance for Suicide Prevention (Recommended Standard Care for People with Suicide Risk: Making Health Care Suicide Safe, 2018).
For professionals working in outpatient behavioral health settings, those recommendations include:
Assessing patients for suicide risk at intake and repeating the assessment periodically.
Completing a safety plan in collaboration with all patients at increased risk during the same visit.
Giving patients information on telephone crisis lines.
Taking steps to reduce access to lethal means, including asking family members to assist.
Reassessing risk and reviewing or updating the safety plan at each visit until the risk is reduced.
A key message, experts say, is that there is genuine hope for people considering suicide. "Suicide is about despair, and the only cure for despair is hope," says Joel Dvoskin, PhD, ABPP, a clinical and forensic psychologist in Arizona and New Mexico who has worked with jails to implement suicide prevention interventions among inmates. "Psychologists can prevent suicide by helping people to regain hope. If we're not about that, we should get out of the business."