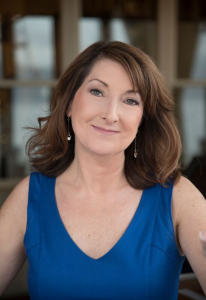 Tracey Maxfield is a nurse with over 35 years' experience in the healthcare field in the UK, USA and Canada. She is certified in gerontology and dementia care and is a passionate dementia advocate and educator. She has written articles about dementia in the column Dementia Aware: what you need to know featured on www.castanet.net and TheScrutinizer.org. She is also a regular guest on well-known author and radio host Peter Rosenberger's show Caregivers with Hope on WLAC and iHeart Radio in Nashville, Tennessee. Tracey has been involved in municipal and provincial projects to improve the health, wellbeing and quality of life of the aged and dementia populations in British Columbia. She is the Purple Angel Dementia Ambassador for the Okanagan.
Tracey experienced her first episode of clinical depression in her twenties and lived with chronic depression ever since. However, nothing prepared her for the acute depressive episode she experienced in 2015. After enduring years of intense work place stress, harassment and bullying, she plummeted into an abyss of darkness, hopelessness and despair the likes of which she had never experienced before.
Encouraged by a psychologist, Tracey started a Blog, Escaping the Rabbit Hole: my life with depression, to better help her friends understand her depression. Over time, Tracey began to heal and found that out of the darkness and despair, there is hope, there is life after depression.
Since the release of her book, Escaping the Rabbit Hole: my journey through depression, Tracey has become a staunch advocate for Mental Illness and Mental Health Awareness and Bullying and completed the course, Bringing Mental Health to Schools. She has met with teenagers ages 11 to 15years to talk about bullying and mental illness and has appeared on numerous podcasts, live radio shows and ABC KOMO News 4, KSHV 45, and NBC News 6 television shows. In June, Tracey was featured in a series of articles by HelloCare magazine in Australia.
In September, Tracey embarked on a new life journey, she sold her home, donated most of her possessions to various charities and made a commitment to try and make a difference in the world and is spending six months traveling in the USA, talking about mental illness and bullying in children and teenagers. Her philosophy is to Engage children and teenagers, to Educate them about mental illness and bullying and to Empower them to develop confidence and skills to continue to move ahead in their own life journey.
Born in Wales, U.K. Tracey moved to Canada in 1987. She currently lives in the Okanagan Valley in beautiful British Columbia. Escaping the Rabbit Hole: my journey through depression is her first book and has received international rave reviews. It is available at Barnes & Noble, www.BOL.com, www.BookDepository.com, and on Amazon in soft cover, kindle and audio book.